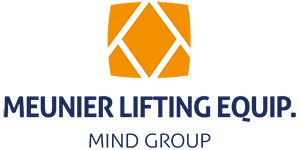 EN
Adress : 26 Rue Stanislas Dupuy de Lomé, 56000 Vannes
Phone : + 33 (0)2 97 54 21 71
Managing Director : Stéphane REVOL
Site Manager : Sébastien MENIER
Sale Manager : Erwan LE GAL
Contact : contact@meunierliftingequip.com



MLE

 specializes in engineering, manufacturing, integration, maintenance, qualification and periodic inspections of your lifting equipment.



MLE

 develops cranes, stems, winches, hoists, cranes for the industrial, mining, port, offshore, naval and energy sectors.



MLE has developed a range of davits for SOLAS equipment.



MLE provides spare parts; cables, shackles, slings, motors ...



Our services :
On-site qualification of lifting equipment

Test bench of 34T for load tests

Achievements on request



Technologies:
Bridge cranes

Winches

Davit launching system (ALM, ALS, SOLAS, etc ...)

Crane



Areas :
Naval

Industry

Offshore

MRE